Bill McFadden presents Todd Wong's
GUNG HAGGIS FAT CHOYTM
Seattle

A Celebration of the Birthday of Robert Burns
and Chinese New Year
Covid-19 protocols resulted in a pause celebrating Gung Haggis Fat Choy in Seattle. We are considering again hosting the in-person event in 2023. If we can pull it off, the tentative date would be February 19th, possibly at a new location. The featured entertainment would include The Northwest Junior Pipe Band and Sifu David Leong's Lion Dancers. We will be posting updates.
For more information (including contact info for Bill McFadden), please visit our website: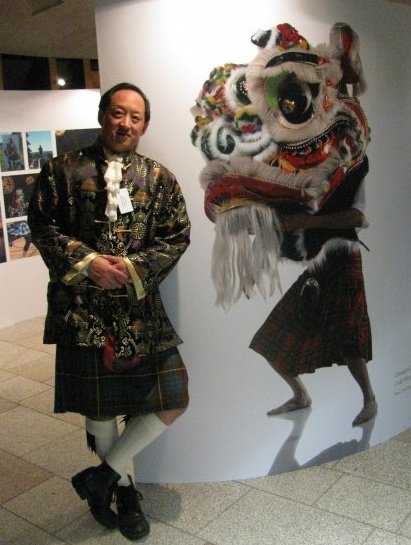 Todd Wong (aka "Toddish McWong")
of Vancouver, B.C.,
creator of the trademarked
"Gung Haggis Fat Choy".
Recognized in the Scottish Parliament's
exhibition:
"This is Who We Are: Scots in Canada".
Photo taken in Edinburgh, October of 2009.
A Brief History of Todd Wong's Trademarked Gung Haggis Fat Choy

Gung Haggis Fat Choy! Huh?! In 2007 Bill McFadden, then President of the Caledonian & St. Andrew's Society, introduced Todd Wong's trademarked production of "Gung Haggis Fat Choy" to Seattle. Billed as "A Celebration of Chinese New Year and Robert Burns' Dinner", the laughter-filled evening included haggis, a delicious Chinese dinner, Pipes & Drums (traditional and fusion style), sing-alongs (including "When Asian/Scottish Eyes are Smiling" and "My Haggis/Chow Mein Lies Over the Ocean"), Poems, The Address tae the Haggis (delivered in rap to an enthusiastic and responsive crowd) and Auld Lang Syne sung in both Mandarin Chinese and English.