Nearly 300 people braved sleet storms north of Seattle and heavy traffic to the south to attend the 2018 Gung Haggis Fat Choy on Sunday, February 25th. This unusual combination of Robert Burns Dinner and Chinese New Year (Year of the Dog) celebration created by Todd Wong and brought to Seattle by Bill McFadden has become a favorite event for the Greater Seattle community since its inception in 2007.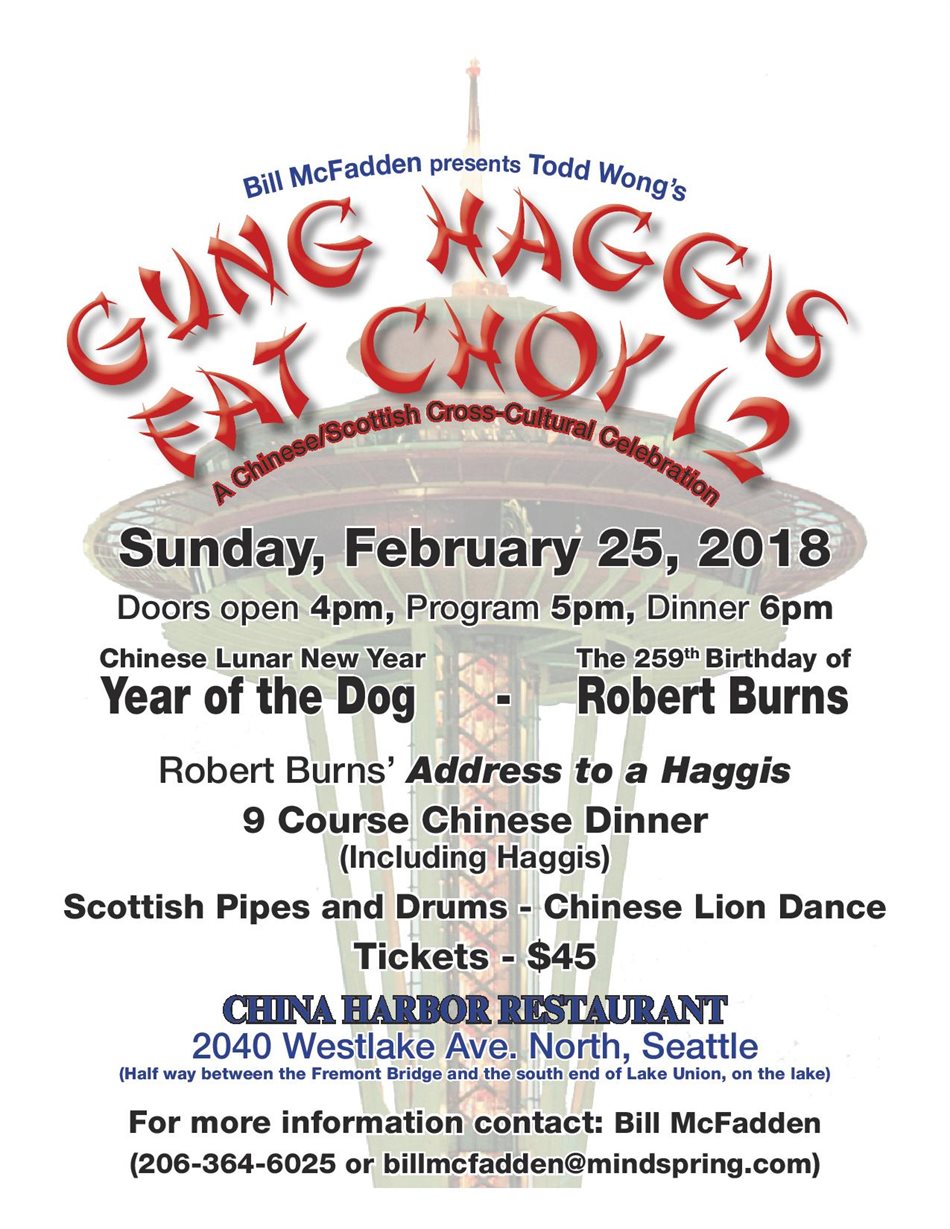 Sunday, February 25th 2018
Now taking reservations
Doors open at 4:00pm
Program starts at 5:00pm
Dinner starts at 6:00pm

Gung Haggis Fat Choy™ 12

A Celebration of the 259th Birthday of Robert Burns
and Chinese New Year 2018
Hello,
This is your invitation to attend Gung Haggis Fat Choy™ 12. This unique and very successful event is in its twelfth year. We are celebrating Chinese Lunar New Year 2018 (Year of the Dog) and the 259th birthday of Robert Burns, the bard of Scotland. As producer of Gung Haggis Fat Choy™ - Seattle, it is my hope that you can join us Sunday evening, 25 February 2018, for a cultural experience like no other.
This year we are again at China Harbor Restaurant, 2040 Westlake Ave. N. overlooking Lake Union, in Seattle. The doors will open at 4:00 pm with an open bar and meet and greet. Program will start at 5:00 pm with our own Gung Haggis Fat Choy program opening (Lion Dancers and Bagpipes.) This will be followed with our own inimitable Gung Haggis Fat Choy Presentation of the Haggis and the reciting of Robert Burns' famous "Address to the Haggis".
Each Gung Haggis Fat Choy™ - Seattle dinner is a fund raiser for Chinese and Scottish youth music, dance, and martial arts scholarship programs. While the program for Gung Haggis Fat Choy™ varies from year to year, we try to keep a balance between Scottish and Chinese entertainment with a full evening of cultural variety.
Ticket price is $45.00 per person. Seating is limited to 25 tables (250 seats.) Early reservations and tables of 10 will receive preferred seating, as available. For additional information, or to purchase tickets, contact me at (206) 364-6025, or e-mail me at billmcfadden@mindspring.com .
Yours, aye,
Bill
Gung Haggis Fat Choy™ 12

Name_____________________________________________________Phone_______________________________
______Tickets @ $45 each

Address __________________________________________________________________

City, State, Zip ________________________________________________________________

Total Enclosed $______________

Please send check or money order payable to "Gung Haggis Fat Choy-Seattle". For further information,
call (206) 364-6025 or e-mail Bill McFadden at billmcfadden@mindspring.com
Include a SASE and mail to:

Gung Haggis Fat Choy 12
12325 40th Ave NE
Seattle, WA 98125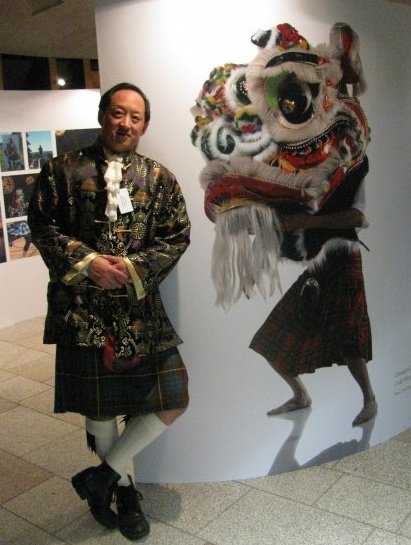 Todd Wong (aka "Toddish McWong")
of Vancouver, B.C.,
creator of the trademarked
"Gung Haggis Fat Choy".
Recognized in the Scottish Parliament's
exhibition:
"This is Who We Are: Scots in Canada".
Photo taken in Edinburgh, October of 2009.
A Brief History of Todd Wong's Trademarked Gung Haggis Fat Choy

Gung Haggis Fat Choy! Huh?! In 2007 Bill McFadden, then President of the Caledonian & St. Andrew's Society, introduced Todd Wong's trademarked production of "Gung Haggis Fat Choy" to Seattle. Billed as "A Celebration of Chinese New Year and Robert Burns' Dinner", the laughter-filled evening included haggis, a delicious Chinese dinner, Pipes & Drums (traditional and fusion style), sing-alongs (including "When Asian/Scottish Eyes are Smiling" and "My Haggis/Chow Mein Lies Over the Ocean"), Poems, The Address tae the Haggis (delivered in rap to an enthusiastic and responsive crowd) and Auld Lang Syne sung in both Mandarin Chinese and English.